BUT I DON'T HAVE ENOUGH SPACE FOR A POND!
When many people hear "water feature", they may picture a serene pond complete with fish, plants and a flowing waterfall. While this is definitely a common choice for water garden enthusiasts, it is most certainly not the only choice. Sure, ecosystem ponds are great for people who have adequate space to build one. But if you don't have enough space or don't want to take up space that may be limited, you can still enjoy the pleasures of a water feature.
In a previous blog titled "Landscaping Ideas: Turn Your Backyard Into a Paradise", we talked generally about different types of water features. In this post, we will talk in more detail about a few different types of water features ideally suited for smaller spaces. Even if you live in an apartment or condominium, you can still enjoy the sound of running water, the beauty of aquatic plants and even fish! Generally speaking, as long as you have at least a 3' x 3' space, you have enough room to install a water garden. Let's look at some of the options.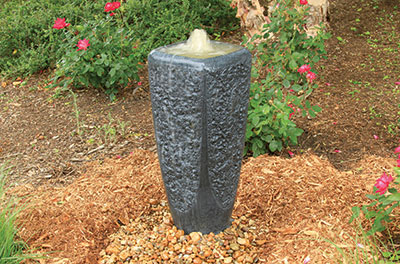 Fountains with an AquaBasin®
A fountain with an AquaBasin® is ideal for smaller outdoor spaces where a small hole can be dug. The hole only needs to be big enough to place the AquaBasin® in. These range in size from 21"L x 27"W x 9.25"H up to 45"L x 45"W 14"H. As long as the hole can be dug to accommodate this size range, you can install a variety of different types of fountains. If digging a hole is not an option, a fountain can be installed using a decorative Patio Basin designed to placed above ground on a patio or other outdoor space. While a fountain by itself may not be an option if you desire fish, it can still be a great place for marginal aquatic plants. Aquascape, Inc., carries a wide variety of fountains in many different shapes and sizes.
Self Contained Fountains
Are you unable (or unwilling) to dig a hole where you want a water feature? If you answered "yes", then a self contained fountain may be the choice for you! These decorative water features can be placed in the corner of a patio, along a walkway or as a centerpiece in your backyard garden. Not only will you be able to enjoy the soothing sound of running water, but you may see some winged visitors playing and splashing around from time to time.
AquaRock and Paver Fountains
AquaRock and Paver fountains are 2 truly unique water features that are sure to impress. The AquaRock Fountain Kit from Aquascape, Inc., is a great way to incorporate the sight and sound of running water into your garden or home. They are available in 2 colors to fit in naturally with any surrounding. Best of all: the hole only needs to be large enough to accommodate a five gallon bucket! The Aquascape Paver Fountain Kit is a simple way to add a little splash to your walkway. They are designed to be easily installed in new or existing paver applications like a patio, driveway or walkway.
You may be asking yourself: "What the heck is a Patio Pond?" Well the name says it all! Patio Ponds are small container water gardens. They come in a number of different shapes, sizes and colors and they make it easy to create a beautiful little ecosystem right on your back porch, patio or anywhere in your home or business. In addition to the sound of running water, Patio Ponds also are a great place for aquatic plants like water hyacinth to grow. Some people will even put small fish in their Patio Ponds. The high-quality fiberglass construction not only has the natural beauty of real rock, but also the added bonus of being light-weight and durable.
NOW CHOOSE WHICH ONE IS RIGHT FOR YOU!
Don't let limited space or unusual settings hold you back from installing a water feature! Give a call, fill out the contact form on this page or come by our retail location in Graham, NC, today and let American Aquascapes help get you started! We are the premier pond management company in the Triad and Triangle. We service the central North Carolina area: Raleigh, Durham, Chapel Hill, Cary, Greensboro, High Point, Burlington, Graham, Mebane, Hillsborough and more!
_______________________________________________________________________________________________________________
Related posts