Professional Pond Services in Raleigh, North Carolina
Natural Design, High Quality Construction, and Pond Management and Maintenance Services from Raleigh's Elite Professional Pond Services Team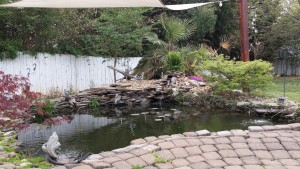 As pond construction and maintenance specialists, American Aquascapes has been involved in the beautification process of Raleigh, North Carolina's home and business landscapes for many years. We have spent time learning about the ecology of the area and know just what is needed to create the perfect pond or lake for the space you have. We know that after a busy day you need a place where you can find peace, beauty, and relaxation. It is with that desire for tranquility that each aquascape design is created. Over the years we have been earned a variety of awards, been spotlighted multiple times within our industry, and have been a part of exciting projects that have brought us recognition and accolades from numerous ecstatic clients. We look forward to each pond construction project, as well as to seeing the joy on the faces of those who will have the benefits of one of our waterscapes for many years to come.
Raleigh: Where Arts, Academia, and Antiques meet Modern Architecture and Community
Historic Neighborhoods, Modern Architecture, and Suburbia Mean a Community that Values Nature
Raleigh is a beautiful town where you will find gorgeous Old World architecture as well as modern skyscrapers. It offers all the hustle and bustle that comes with being the state capital and as well as many suburban neighborhoods, quiet parks and winding nature trails. This blending draws many people to Raleigh for a visit, and quite often causes them to become residents. For those who love spending time in the great outdoors, there are more than a dozen parks such Horseshoe Farm Nature Preserve or the Walnut Creek Wetland Center, designed especially to immerse one in the beauty of nature. This dedication to time in nature has inspired many Raleigh residents and commercial areas to hire us to construct ponds and lakes for their landscape. These waterscapes provide a calming place for one to indulge the senses by relaxing and refreshing at the water's edge.
The Importance of Proper Pond Maintenance & Management in Raleigh: It's more than just water, it's a natural habitat.
When we build a natural waterscape for your Raleigh location, it is our goal to create a space that will thrive for generations. We don't just dig a hole, add a liner, some rocks, plants, and fish, and call it a day. We take the time to teach you how to ensure your pond life's health. As leaders in the Raleigh pond maintenance and management field, we recognize that having a healthy ecosystem for your pond or lake is vital. As we help you maintain your Raleigh waterscape, some key management steps will include:
Teaching you about pond cleaning so that you know which fertilizer is safe to use, as well as how much should be used.

A common problem that must be addressed with pond and lake management is algae growth. When you work with us, we will teach how to manage this and keep it at a healthy level.

Sometimes, it can be necessary to remove an accumulation of leaves from your pond. The American Aquascapes team will teach you how to do this. Or, if you prefer, talk to us about scheduling pond services.

From time to time, it may be necessary for you to provide your fish with food. Our team will teach you what you need to know to see that your goldfish, koi, and other water animals have what they need.

As longtime aquascape professionals, we have specific tools and products that we feel make pond maintenance and cleaning easier. These include items such as a dependable pond aeration system, high efficiency pond pumps, filters skimmers, and sterilizers for keeping the water clean, and systems especially for minimizing algae.
The Significance of Quality in Raleigh Pond Construction
Proper Construction and Quality Products Ensure Years of Enjoyment
The American Aquascapes team believes that every pond we build is a reflection of you and us. This is why we take the time to listen carefully to your dreams before we begin construction on your pond. Because we want every minute you spend near your pond to bring you pleasure, we will use quality materials in the construction of your pond. From the 45-mil EPDM liner with its 40-year life expectancy to the stones and gravel we use to add both beauty and durability, we strive to create an outdoor retreat that pleases you now, as well as being a delightful retreat for future generations.
Working with the Raleigh Pond Maintenance Experts at American Aquascapes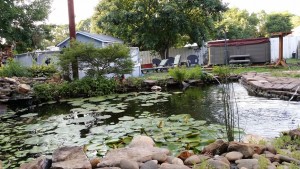 Working with the American Aquascapes team is the way to ensure that your pond management is everything it needs to be. We understand what it takes to turn that simple patch of ground into a beautiful, flourishing pond that provides hours of enjoyment –whether that pond is used merely for observing nature or indulging in fly fishing. We know what types of fish will excel in a specific environment and can help you maintain your Raleigh lake or pond so that your waterscape is the place where everyone wants to visit.
As reputable, certified, licensed pond contractors with many years of experience, we know how to answer your questions so that you are able to apply that knowledge to maintaining your natural area to its full potential. We do this because we know how busy you are, and want to help you keep your lake or pond at its best. When you work with us, we will teach you the skills necessary for keeping the hours spent in pond maintenance to no more than a few hours invested during the summer –leaving you plenty of time to enjoy the warm weather so common in Raleigh! Because ponds and water life are our passion, it is our goal to see that your water feature is everything you ever imagined. So, don't just dream about the possibilities of a pond – contact the American Aquascapes team today and schedule an appointment!