Pond filtration is one of the most important components in maintaining a healthy and balanced ecosystem. Quality filtration equipment is necessary to maintain optimum water quality. Aquascape offers a wide selection of premium pond filtration products to suit any budget or water garden.
Biofalls®
Filter
Contact us for pricing*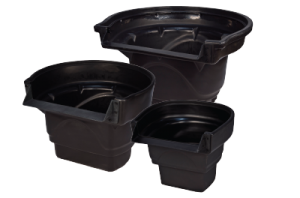 Aquascape professional-grade BioFalls® Filters provide the most filtration and highest water flows in the market. Durable rotational-molded polyethylene ensures maximum strength and withstands whatever Mother Nature can dish out. All Aquascape BioFalls® Filters include a lifetime warranty!
Skimmer
Filters
Contact us for pricing*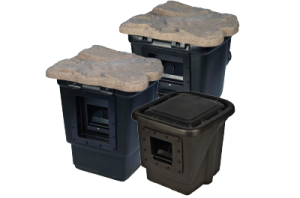 Aquascape's family of field-proven, time-tested Skimmer Filters are the #1 selling skimmers in the water garden market. No gizmos or gadgets designed by engineers behind a desk, but rather, functional, easy-to-install-and-maintain filters designed by actual pond builders. They include patented features that make installation a snap with components designed to make maintenance effortless.
UltraKlean™ Pressure Filters
Contact us for pricing*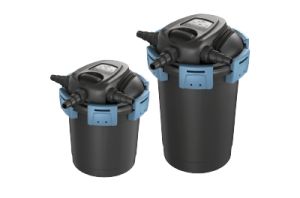 The Aquascape UltraKlean™ Biological Pressure Filter with a high output ultraviolet clarifier/sterilizer and an integrated electronic bulb-saver option, provides pond owners with optimum water conditions and crystal clear pond water. The unique sponge-free design minimizes maintenance and maximizes efficient mechanical and biological filtration.
Pondless
Filtration
Contact us for pricing*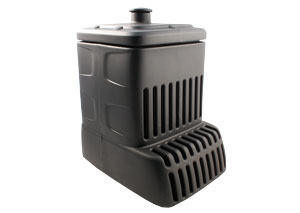 Not too big and not too small, the expandability of the Pondless® Waterfall Vault makes this filter perfectly sized to meet the need of any Pondless® Waterfall or RainXchange® project. Its large interior fits a wide range of pump sizes up to 12,500 gallons per hour.
Filter
Media
Contact us for pricing*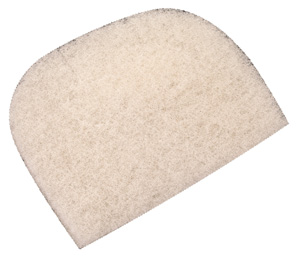 Aquascape, Inc.'s filter media are available in a variety of sizes to fit all of your pond filtration needs. Visit our retail store in Graham, NC, to get a custom cut filter to fit any skimmer or BioFalls filters.
UltraKlear® UV
Clarifier/Sterilizer
Contact us for pricing*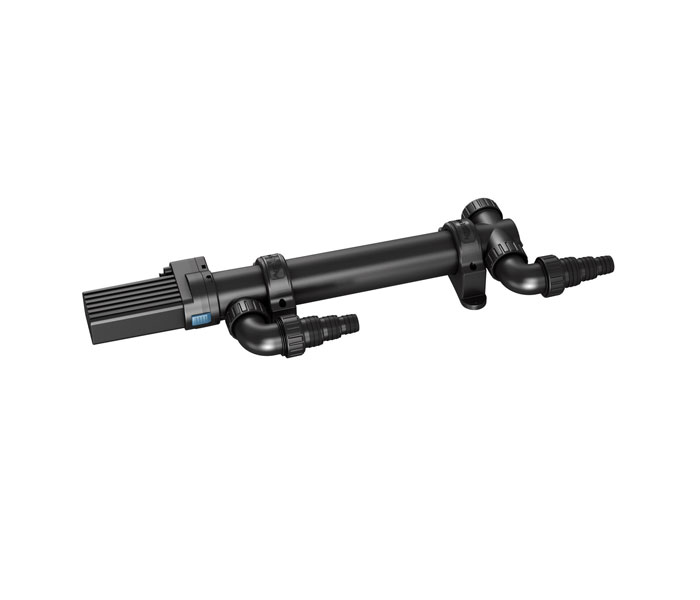 In a pond, algae blooms, or "green water", can be a difficult issue to address safely and effectively. Not anymore! The Aquascape UltraKlear® UV Clarifier/Sterilizer uses a technologically-advanced T5 high output UVC bulb, making it more efficient than traditional UV clarifiers. The Aquascape UltraKlear® UV Clarifier/Sterilizer features a swirl sleeve that helps direct the water around the UV bulb, creating more contact time and increasing UV efficiency up to 50% over traditional UV clarifiers.
If you have any other questions, you can contact American Aquascapes using the form on this page, calling us at (336) 578-6123 or coming by our retail location in Graham, North Carolina. We are the true pond stars of the Triangle and Triad serving Raleigh, Durham, Chapel Hill, Cary, Greensboro, High Point, Burlington, Graham, Mebane, Hillsborough and more!