LET THE IonGen™ CONTROL YOUR ALGAE FOR YOU!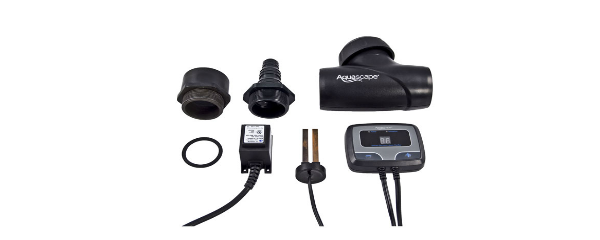 The IonGen™ System G2 Electronic Algae Controller allows you to spend your time relaxing next to your water feature instead of trying to maintain it! The IonGen™ effectively kills algae without the use of traditional liquid chemicals and is designed with a microprocessor that sends a signal to its ion producing probe helping to control algae throughout the entire water feature.
Drastically reduces pond maintenance
Helps to control unsightly algae without the use of liquid chemicals
Compatible with water containing fish and plants
Energy efficient (less than $1 per month in electrical costs)
Treats ponds up to 25,000 gallons
Probe typically lasts 1-3 seasons depending on the ionization level it is operated at, volume of water in the pond, and the water conditions you are trying to control
Complete with electronic control panel, outdoor-rated transformer, flow chamber, probe fittings, probe holder, copper test kit, alkalinity test kit and owner's manual
Get your IonGen™ System Installed professionally by us for $750*!
Contact us TODAY to schedule your installation and make your algae worries a thing of the past. We serve the Triad and Triangle area including Burlington, Graham, Mebane, Hillsborough, Chapel Hill, Durham, Raleigh, Greensboro and more!
*Price includes standard installation.