Water Features & Aquatic Plants for Raleigh, North Carolina Ponds
Beautiful Ponds, Delightful Fountains, and Healthy Plants Installed and Managed by Raleigh Pond Professionals at American Aquascapes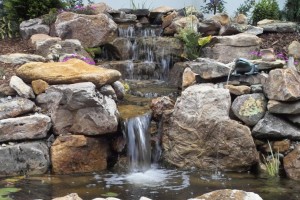 A yard without a water feature is just a lawn. When you add a water feature to your landscape, then you are enhancing your home's attractiveness, and making your place stand out from others in the neighborhood. But a water feature is more than just a way to add beauty – it is also a place that encourages you to spend more time outside as you relax after a long day of working.
The Raleigh American Aquascapes design team knows your pond is important to you. We are here to help you keep your pond's ecosystem healthy so that the animals that live within its depths, as well as those animals who visit its banks, are happy and healthy. We have more than 20 years of experience in Raleigh pond maintenance, and have won many industry awards for our pond designs, water features, and use of aquatic plants. We know how to listen to your needs, and then create the waterscape perfect for your location. We will then work with you to see that pond maintenance is not a struggle.
Big City Life with a Hometown Feel
A careful balance of high-energy venues and hometown simplicity means that Raleigh landscapes are perfect for waterscape designs replete with aquatic plants, fountains, and falls.
Called the City of Oaks due to the numerous oak trees planted along its streets and throughout its neighborhoods, Raleigh is a Southern city that combines history and the excitement of the future. It is home to PNC Plaza –its tallest building – as well as to peaceful city parks, several colleges and many museums, historic locations and an abundance of fantastic neighborhoods. Its residents know that in order to keep Raleigh a prime place to live, work and play it is necessary to be intentional in developing and maintaining natural areas such as ponds, flourishing groves, and colorful gardens. This dedication has resulted in American Aquascapes being a part of enriching many residential locations as well as business landscapes with delightful ponds and soothing water features. We have been a part of several pond projects and look forward to constructing many more.
Aquascape Designs in Raleigh: Pond Supplies to Create the Perfect Place for a Relaxing Moment
From Basic Landscape to a Soothing Water Feature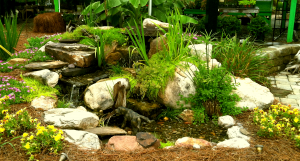 The American Aquascapes team knows just how busy life can be, so it is important to us that you have a place to relax and rejuvenate. We believe that landscapes with water features provide the perfect place for re-connecting with who we are and how we relate to the world around us. It is those moments of quiet reflections at the water's edge that many answers are found and harmony of thoughts become significant. As we work with you in creating that perfect aquascape design, we will endeavor to select water features that suit you and your needs. These water features typically include beautiful aquatic plants, enchanting fountains, and entertaining koi, goldfish and other pond life that are sure to help you have many relaxing moments, make special memories and be refreshed in mind, body and spirit.
As pond management professionals local to Raleigh, we know that one of the best ways to get the most from your water feature, with the minimal amount of time and work invested, is through having the right pond supplies for your aquascape design. We will help you select the right items and then ensure that you understand how these pond supplies work to maintain your pond or lake's beauty.
Water features and Aquatic plants make a Raleigh aquascape design a mecca for memories
Tips for determining the aquascape design and aquatic plants that meets your needs
Water features for Raleigh ponds or lakes come in many sizes and styles. But whether you opt for large, multi-tiered fountains or simple waterfalls; lilies or cattails; or ornamental landscape elements such as birdbaths, you are sure to realize that investing in an aquascape design is a wise decision. With the many water features available to use in an aquascape design, the American Aquascapes team knows it can be a struggle to make decisions regarding water features, so we want to help simplify the aquascape design process.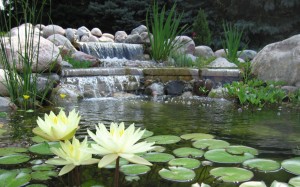 Think about the space available. Your aquascape design can be as formal or elegant as you might like, but be sure to keep your existing landscape and yard style in mind. As our American Aquascape team works with you, we will be asking you a variety of questions to help determine what type of pond design will best suit your dreams. These questions may include:
Do you want a fountain that is the focal point or merely a functional but attractive feature?

Will you be doing the pond management and maintenance, or will you prefer to have American Aquascapes handle this element?

How many, and what types of aquatic plants are you interested in having?

Are you comfortable with hearing various pond sounds or do you prefer that the water features be seen but not heard?

What type(s) of fountain materials – cast stone, fiberglass, ceramic, and metal – do you prefer?

Would you prefer a fountain that works using solar energy or electricity?
Aquatic plants make your Raleigh water feature beautiful, healthy, and inviting. Did you know that on natural wetlands, that plants comprise as much as 90% of all life, keeping water conditions healthy for the remaining 10% by consuming the organic nutrients from fish, mammals, and birds? When it comes to your Raleigh, aquascape plants are not simply a way to add greenery; they are a key element in maintaining a healthy ecosystem in your water feature. Having a variety of aquatic plants as part of the design produces the following benefits:
Aquatic plants will limit algae growth by blocking excess sunlight and consume algae fueling nutrients.

Plants naturally filter the water by trapping sediment, reducing nutrients, and breaking down toxic compounds and pathogens.

They provide shelter for pond life, and surface area for colonies of nitrifying bacteria.

By encouraging healthy plant life, your pond's oxygen levels and temperature will be maintained.
Your Raleigh, NC Aquascape Design Professionals
For nearly two decades, American Aquascapes has been helping Raleigh businesses and homeowners enhance their landscapes with beautiful ponds and lakes. We understand what it takes to turn a barren piece of land into a thriving ecosystem that encourages reflection and helps to create memories. When you work with American Aquascapes, you are working with a team of licensed, insured contractors with a reputation for installing and maintaining aquascapes effectively and efficiently. When looking for a Raleigh, NC pond design professional, you can count on us to get the job done. Contact us today to get your own personal pond paradise!