Goldfish Ponds Installed and Maintained by American Aquascapes – Raleigh's Leading Koi/Goldfish Pond Service Professionals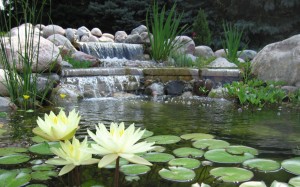 For a delightful backyard escape, you need to contact the pros at American Aquascapes and learn how a goldfish/koi pond can bring you hours of relaxation and pleasure. As experts in designing, building, stocking, and managing of goldfish ponds all around the Raleigh area, American Aquascapes knows what it takes to create the perfect place for you to unwind after a long, tiring day. Our pond designs and water features have been recognized in numerous industry publications, and we have earned many pond design rewards and glowing reviews from pleased customers. With over two decades of providing goldfish ponds in Raleigh, North Carolina, American Aquascapes is the team to call for your next outdoor beautification project.
The City of Oaks – Where the Big City and Southern Charm Meet
Balmy nights, busy days, and neighborhoods perfect for making time for relaxing by a quiet, backyard goldfish pond.
Nicknamed the City of Oaks due to the many oak trees that line its downtown streets, Raleigh, along with Durham and Chapel Hill, is part of the Research Triangle Park.  It is named for Sir Walter Raleigh the founder of the lost colony on Roanoke, NC, and is a town rich in history, antebellum homes, and Southern charm. Yet despite the hustle and bustle of being the state's capital city, Raleigh residents are very much in tune with the delights of nature and look for ways to indulge in its beauty. It is this desire to merge city living with country charm that causes so many in Raleigh to opt for koi and goldfish ponds – be it in their backyard or part of the office lawnscape. As a place where city and country meet, Raleigh residents know that in order to build a better future, they must now preserve and beautify the world around them, and what better way than with a gorgeously designed koi/goldfish pond!
The Pros of Having a Goldfish/Koi Pond Installed in Your Yard
Did you know that goldfish/koi…
Have been known to live as many as 40 years

Can recognize people's faces

Will grow to over a foot long if they are kept in the right environment

Have a memory span of up to 3 months

See more colors than humans can
Having a goldfish/koi pond provides you with the perfect place to relax after dealing with the stressors of the day. Offering a private place to unwind, goldfish/koi ponds are also a great addition to any landscape, but especially perfect for the homeowner who delights in gardening.
It is also worth noting that goldfish ponds require minimal maintenance so when you invest in having a goldfish pond built, you are getting years' worth of pleasure without adding more long hours of work into your already full schedule.  In fact, because of Raleigh's mild climate, it is rare that you have to be concerned about the weather being too cold for your goldfish/koi.
Better still, having a goldfish/koi pond adds resale value to your property, should you ever need to relocate.
In selecting goldfish/koi for your pond, you will discover that there are many varieties from which to choose. From exotic koi/goldfish with flowing fins to those with fanned, fringed, veiled tails, they are the perfect choice for your backyard in the Raleigh area.
Koi/goldfish do not require an extremely special diet. Not only can you feed them with the commercial pellet food, but they also enjoy items such as chopped grapes, blueberries, and assorted leafy veggies. And the best part about feeding your goldfish – they will swim to the surface allowing you to see their brilliant colors.
Raleigh Koi Pond Services with American Aquascapes
American Aquascape professionals understand how excited you are to be getting your goldfish pond and are happy to answer any questions you may have. Our years of experience can provide just the right koi pond care so that you can keep your goldfish happy and healthy. As certified pond management experts, American Aquascapes can provide goldfish pond management services so that your outdoor living space always looks its best. To begin designing your goldfish pond in the Raleigh area, give American Aquascapes a call today.