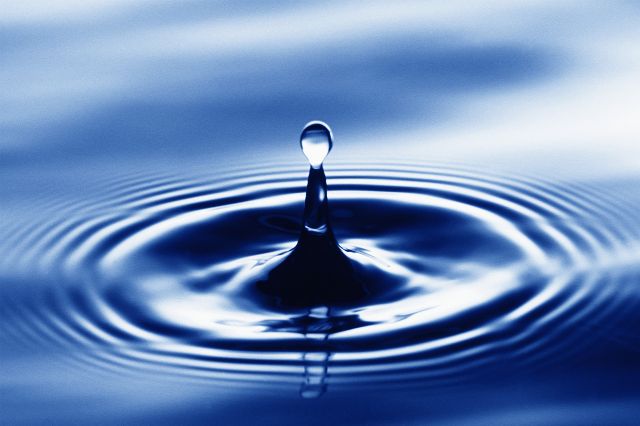 So Many Questions
If you've talked to someone about or researched the chemistry and science of water, you may have ended up with more questions than answers. Memories of high school chemistry class may have come flooding back to you. Terms like pH levels, alkalinity or nitrates may have popped up and had you scratching your head. We are here to (hopefully) clear things up for you and make the knowledge of water chemistry easy to understand and apply to your pond or other water feature! In this article, we will explain the science first and then explain what the science means for your pond's fish, plants and overall health and beauty.
The Science
If you jog your memory a bit, you may remember that pH levels are a measure of how acidic or basic a solution (e.g. water) is and it is measured on a scale of 0 to 14. A pH of 7 is considered to be a totally neutral solution i.e. pure water. Levels below 7 are considered acidic and levels above 7 are considered basic. Some common examples of solutions that are acidic are orange juice or vinegar; some common examples of basic (or "alkaline") solutions are bleach or ammonia. It is important to note a few things when measuring the pH level of your pond. First of all, the pH levels increase or decrease by a power of 10 with each number on the scale. So, for example, a pH level of 4 is 10 times more acidic than a pH of 5. The pH levels can also change in a somewhat short period of time due to environmental factors like time of day.
What It Means for You
If you are measuring the pH level of your pond, you want to make sure that it falls within a certain range that is safe and healthy for plants and fish. While there is some debate among various experts about ideal pH ranges for fish and plants, a pH level of 7-8.5 will always be an acceptable range for koi. If the pH falls below 6.5, the water may be too acidic and harmful to koi. You should also be aware that things like photosynthesis and respiration affect the pH level of your pond and can vary depending on what time of day the pH level is measured. In general, pH levels tend to increase during the day when photosynthesis occurs and decrease during the night as photosynthesis stops. There are various types of easy-to-use test kits on the market to test the pH or alkalinity of your pond water.
The Science
Ammonia is something that most of us are familiar with because of its presence in many household products. Many of us certainly know the smell of ammonia! According to some experts, ammonia can be the #1 killer of fish in a new pond. Ammonia levels can tend to be higher in new ponds in particular because the bacteria that would naturally convert ammonia are not sufficiently established. Ammonia can be introduced to a pond in many different ways. Decaying plant material or fish waste can release ammonia as a byproduct. If the pond is located in a shady spot under trees with a lot of leaves then be prepared to take measures to remove falling leaves from your pond (or prevent them from falling in altogether with some
protective netting
). Fertilizer (which contains ammonia) can run off from the surrounding landscape as well. This is something that can cause problems if a pond or water feature is located at a low point on a property because this is where the water (and other contaminants) will naturally flow. All of these things are something to consider when regulating ammonia levels in a pond or water feature.
What It Means for You
So how do you know if your ammonia levels are safe for your fish? There are a few simple things you can do as a pond owner to ensure that your ammonia levels are acceptable. Controlling the source of ammonia is a good place to start. Don't overfeed your fish. Fish food is organic material just like leaves are organic material: they can both decompose and produce ammonia. Remove leaves from your pond in the fall and winter or you can prevent them from falling into your pond altogether by installing
protective netting
when the weather starts to get cold. Look for potential outside sources of ammonia as well like fertilizer runoff from your lawn. Adding bacteria to a pond will also help to control ammonia levels. Aquascape, Inc., offers a few different types of bacteria for different situations:
Pond Starter Bacteria
(for new ponds),
Beneficial Bacteria
(for regular pond maintenance), and
Cold Water Benefical Bacteria
(for temperatures below 55°F). You can also look for signs of distress in your fish that may indicate high ammonia levels: reddening of the skin, isolating themselves on the bottom of the pond, clamping their fins and secreting of excess slime.
The Science
As you may know, fish cannot live without oxygen. The oxygen in the water passes over blood vessels in their gills absorbing the oxygen in the water and releasing carbon dioxide as a byproduct. Since there is a limited amount of oxygen present in the water, it makes sense that oxygen will get depleted as fish breathe. This means that oxygen must be reintroduced to the water somehow in order to keep your fish alive. It also means that carbon dioxide will build up in your pond if there isn't some way to get rid of the excess carbon dioxide. A healthy pond (and healthy fish) depends on a good balance of the two. Plants absorb carbon dioxide and give off oxygen, so they are critical to maintaining this balance. As photosynthesis occurs during the day, the plants will give off oxygen which will be utilized by fish. This means that oxygen levels tend to be the lowest right before daylight because fish continue to absorb oxygen overnight while the plants aren't producing it.
What It Means for You
The 2 times of year that oxygen levels can be a problem are typically the winter and the summer. In the winter, many pond owners will shut off their recirculation system; but this is not the best thing for oxygen levels in your pond. This recirculation system is the very thing that introduces oxygen into your pond! During the winter months, ice can also form over the surface of your pond, trapping carbon dioxide underneath it and throwing the levels out of balance. While you can use a
de-icer
to create a hole in the ice, the very act of heating can use up oxygen. Your best solution is to leave your recirculation system running year-round. The addition of
pond aerators
can also help keep your pond's oxygen levels where they need to be to ensure a healthy pond with beautiful fish and plants.
Putting It All Together
This may seem like a lot of technical information to process, but the good news is that with proper equipment and easy maintenance, owning a pond can be extremely enjoying. Follow the guidelines detailed in this article and your pond's chemistry will work for you instead of against you. If you have any other questions about caring for your pond, fell free to contact American Aquascapes in Graham, NC, using the contact form on this page or call us at (336) 578-6123 and we will gladly assist you! We service the central North Carolina area: Raleigh, Durham, Chapel Hill, Cary, Greensboro, High Point, Burlington, Graham, Mebane, Hillsborough and more!
_______________________________________________________________________________________________________________
Related posts