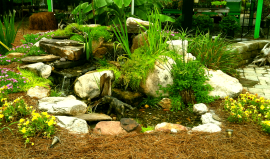 The sound of water flowing is soothing. People who have water features will attest: it is their own backyard paradise. A waterfall and pond, however, are not the only option for a home or business owner who wants to enjoy the soothing sights and sounds of a water feature. At American Aquascapes, we offer a variety of different water features from full koi ponds of any size to our signature Pondless Waterfalls.
What is special and different about our Pondless Waterfalls?
Great alternative for a front yard pond: Fits in small spaces where a pond might be crowded.
Perfect for public settings: Restaurants, shopping centers, commercial buildings and zoos.
Virtually maintenance-free: Simply refill the reservoir every few weeks to compensate for water loss due to evaporation.
Energy Efficient: No ecological need to run the system continuously.
Set a timer to turn the falls on and off: Ideal for vacations and night/day settings.
Give us a call and create your own backyard paradise.